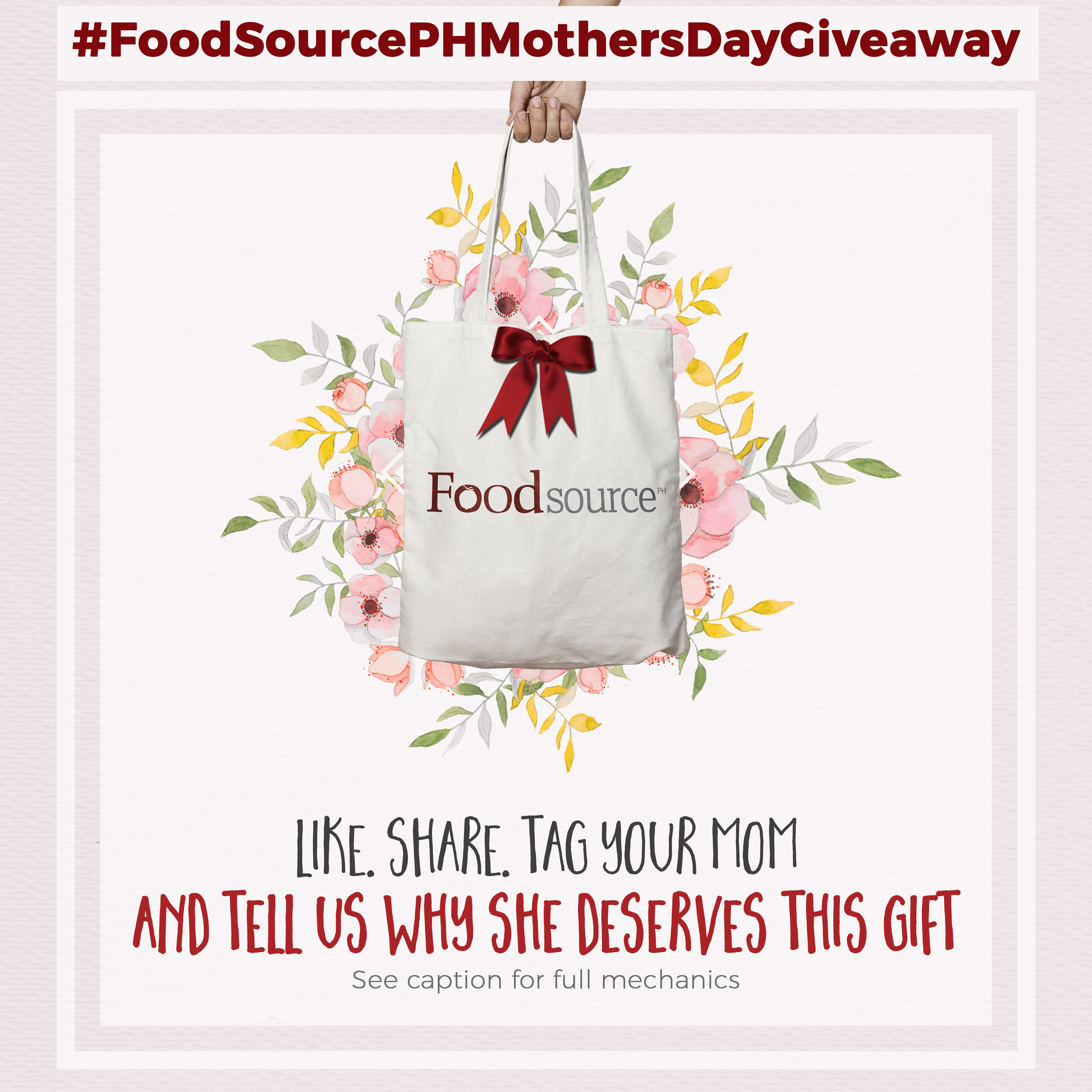 How to Join:
1) Like our social media page:
https://www.facebook.com/foodsourcePH/
2) Share our Mother's Day promo post:
https://www.facebook.com/foodsourcePH/photos/a.901301049937701.1073741828.827378207329986/1387419567992511/
3) Tell us in the caption why your mom deserve this gift on Mother's day
- don't forget to tag your mom to let her know how you feel!
- make sure to set the post to public
4) Include the hashtag #FoodsourcePHMothersDayGiveAway
Contest duration is from May 4 -11, 2017. Deadline of entries is at 6:59 PM of May 11, 2017
3 Winners will be selected and notified on May 12, 2017
Winners should be prepared with the following information:
1) Your full name
2) Your mother's full name
1) Your mom's address (we will be sending the gift directly to her on Mother's Day, May 14)
2) Your contact details (cellphone number, email address)
Terms and Conditions:
1) Prizes may only be sent to an address within Metro Manila
2) Only 1 entry can be submitted per person, but multiple siblings may participate to gain better chances for their mom
3) We will only accept 1 eligible mom per participant
4) Contest organizer reserves the right to disqualify any participants according to the rules set above
5) By joining this contest, the participant signifies that he/she has read, understood and agrees to abide by the Promo mechanics, rules and regulations set forth in the contest's terms and conditions.
Prize:
1) 1 Foodsource PH Tote Bag filled with assorted food products worth a minimum of P1000
2) Free delivery to your mom's address on the morning of Mother's Day
3) For the benefit of all the other mom's out there, prizes must be received on Mother's Day, May 14